One advantage of trips abroad is the opportunity to try out the local food and drink.
When we had a few days in Graz, Austria, coffee arrived on individual trays, each with an additional glass of water.  We worked hard to try out coffees in lots of different locations across town – one way to visit stylish places on a budget.
Graz is getting well known for its 'friendly alien', the curvy modern art gallery next to the river Mur.  Not as well known, though it deserves to be, is the 'island on the Mur', a shell shaped structure that acts as a bridge but includes an outside cafe and an inside bar.  It's particularly beautiful lit up at night.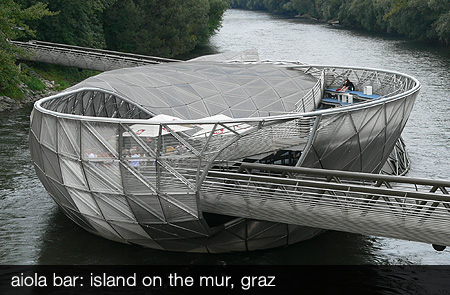 Probably the most beautiful option is the bar near the top of the Castle rock.  This can be reached up a slope around the side, but as the rock also includes a glass lift, and an interior that looks like a Bond villain's lair, you can guess which option we chose.  It was so pretty we pushed the boat out…and had a hot chocolate instead.
Sadly we're not gaining any money from Ryanair for our support of Graz, but let us know if you want any more top tips on where to visit.